Bathroom luxury

How should a room be furnished that does not only fulfil a functional role but also allows you to regenerate body and soul? Water meets wood and becomes a elixir and meditative moment. You can feel its cleansing power.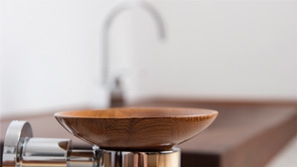 Can you feel the natural warmth of the precious wood that has matured over decades combined with the sleek design of the Dornbracht-fittings? It all comes down to the power of the natural elements! You are enjoying more than just water. You can feel the unison. You are experiencing a new standard. Now you appreciate the archaic sensuality of this fine wood.
Just as the term "freedom" is given a new meaning on a Wolz Nautic Deck, our maritime-inspired "Nature Spirit" series transforms your everyday bathroom experience into a regenerating ritual. Exclusiveness included.
No matter whether you are looking for fittings for an individual bathroom or for an entire hotel:
simply let us know what you are looking for
.